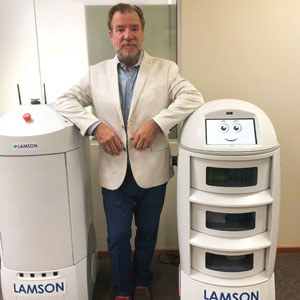 Malcom Menday, MD
"A hospital is like an orchestrated human factory. Lots of operations in there are mundane, repetitive, and demand automation to increase overall functional efficiency, patient safety, and ROI for the entity," states Malcom Menday, MD, Lamson Concepts. Over a century old and globally renowned as a leading provider of pneumatic tube systems, Australia-based Lamson Concepts has recently unveiled advanced robotic systems for the healthcare sector. In line with its vision, which says automation is a profound necessity to advance healthcare, the firm's robots successfully automate some of the essential hospital tasks such as medication dispensing and transportation of materials (meals, waste, and linen).
Lamson Concepts' unique pharmaceutical robotic system effectively streamlines medication dispensing and delivery related tasks of any healthcare organization. Once a doctor sees a patient and inputs a prescription on a ipod or digital device, the information would be instantly shared with robots present at the central pharmacy. The bots would analyze the prescription, select the necessary medicines, and then pack the same with a barcode that would be automatically dispensed via Lamson Concepts' pneumatic tube systems to the patient's location. Hospital staff available at the patient's location can then scan the barcode and the patient's armband that would reflect green color indicating that the received medicines are the accurate ones. Hence, such a system not only makes the entire pharmaceutical operations of a hospital more efficient, but also increases patient safety levels by manifolds.
The second, material transport robotic system of Lamson Concepts and the value they present can be comprehended better from the firm's collaboration with Perth Children's Hospital in Western Australia. A fleet of robots, or robotic vehicles to be more precise, fully controls the hospital's meal, medicine, waste, and bulk supplies delivery 24/7, throughout the year. Utilizing a system of conveyors, the robots perform a variety of tasks. They transport sterilize medical equipment before they are used in operations or labs, deliver meals from kitchens, and automatically visit all wards to collect waste trolleys for disposal. In addition, the robots collect materials like clothes, sterilizing, cleaning, drying, and also can transport payloads coming in and going out of the hospital. Menday further adds that the high efficiency of the robots ensures that there is virtually no need of any physical inspection, making the hospital one of the largest and most successful adopters of robotic automation in the healthcare world.
In line with its vision which says automation is a profound necessity to advance healthcare, the firm's robots successfully automate some of the essential hospital tasks
The competency of the robots in transportation of material within healthcare facilities has empowered Lamson Concepts to become one of the first in delivering tailor-made robotic solutions for aged care centers. Partnering with an aged care center in Brisbane, the firm delivered some robots in the facility and had a 24/7 surveillance system to monitor their activities. The robots advise elderly of their location and can announce events to them, eg "Happy Birthday George!" or "Good Morning everyone", deliver meals to them, and ensure the staff to improve their supervision over the elders and hence deliver better care services. Owing to the numerous capabilities brought along by these robots, they have been deployed in multiple Australian aged care facilities by Lamson Concepts.
Lamson Concepts has continually evolved itself to adapt itself to the changing trends, innovate, and remain relevant to the market requirements since its inception a century ago. Initially being dependent on electromechanical processes, the firm is now primarily software-driven and commands a fleet of quality software, mechatronics engineers in combination with healthcare staff."Despite our extensive experience over the years, we feel we have just scratched the surface. The market is becoming larger, more mature and tech-focused, and we aim to disrupt more industries in future, like the defense sector," concludes Menday.