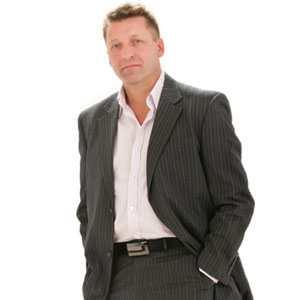 Chris Scott, CEO
The best attribute of robotics and automation is, that it turns up for work every day and is reliable and accurate in what it does," says Chris Scott, CEO of Advanced Robotics, speculating on robotics and its dynamics within industrial applications. Following his passion of exploring the realm of robotics, Scott started his career as a service engineer. With a strong zeal to establish his stature in the domain, he founded Advanced Robotics as an entrepreneurial venture to extend reliable robotic integration and automation services to different industries. Today, with over 25 years of experience, Advanced Robotics stands as a successful enterprise addressing automation requirements of its clients and driving efficiencies into their systems.
The core structure of Advanced Robotics is built upon the idea of taking up a customer's issue, conceptualizing around it to devise a solution, followed by designing and implementing innovation within their existing model. Leveraging their collective industrial knowledge, the professionals at Advanced Robotics ensure seamless implementation of the robotic integration services offered. As well as automation solutions, Advanced Robotics also provides repair, maintenance, and programming for a wide range of robot models including several renowned brands such as ABB, Kuka, Kawasaki, Motoman, Nachi and OTC.
Elaborating on some of the system implementations carried out by Advanced Robotics, Scott shares a case study where Advanced Robotics provided robotic automation to a client for removing straps surrounding a steel coil. Despite the challenges related to safety and accuracy, the company exhibited exceptional dexterity in performing the job without incurring any damage to the coil or the equipment while maintaining precision and quality.
Our most significant selling point is our capability to serve across a wide range of industries and enabling diverse applications in robotics to our clients
In another project, Advanced Robotics has been engaged by a client to supply all of their Automation needs for a system to spray Titanium and other composite materials. The company, Titomic Ltd, uses a cold kinetic spraying metal deposition technique instead of thermal spraying traditionally used to perform titanium deposition.
Expanding into the domain of service robotics industry with humanized interactive robots, Advanced Robotics extends its integration technology to SANBOT, a humanized robot manufactured by a Shanghai-based firm. Building compatible applications around it, Advanced Robotics offers software development and implementation of SANBOT across different industries including retail, hospitality, education, and healthcare. The customizability of SANBOT is further complemented by Advanced Robotics' ability to support it with multiple industrial applications satisfying the needs of the end users.
Advanced Robotics, over the years, has achieved immense success in delivering efficient robotics and automation services to a vast client base including the likes of Nissan, Mitsubishi, Toyota, Holden and Ford. "Our most significant selling point is our capability to serve across a wide range of industries and enabling diverse applications in robotics to our clients," adds Scott. In addition, to provide complete customer satisfaction, the company backs its services with robust sales and support offerings. The company also provides guidance to its clients' engineers around safe operating procedures and maintenance of their equipment through in-depth face-to-face training.
With a firm emphasis on maintaining strong customer relations, Advanced Robotics is continuously focused on ensuring its service reliability throughout the entire lifetime of the customer's system. "With our support and services, our clients know that along with a robust product, they also have a committed partner by their side," adds Scott.
After moving to its current location in 2017, Advanced Robotics has significantly evolved out of its preliminary stage and has embarked on a trajectory of rapid growth. Gaining traction in the Australian robotics landscape, the company has formed exceptional partnerships in the region through its expertise and industry knowledge. Currently, the company is working on a number of unexplored concepts and with that in motion, Scott envisions a promising future for Advanced Robotics.