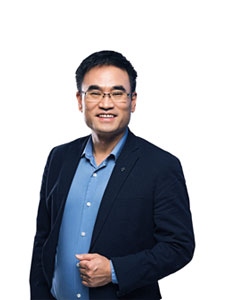 Jason Chen, CEO and Co-founder
"To enable a new healthcare era" is the vision on which DIH Technology Corporation was founded. Jason Chen, the firm's CEO and Co-founder, says, "DIH stands for Deliver Inspiration and Health. We aim to transform the way healthcare is delivered and to inspire a new healthcare 4.0 eco-system through transformative mindsets that unite the best technologies, experts, leaders, and resources into an accelerating force of innovation." Combining advanced robotic systems, VR, and automation, the company's state-of-the-art, cloud-based "total solutions" promise to make a difference in the continuous therapeutic interventions for chronic diseases, especially rehabilitation, to significantly reduce disability and impairment, and in medication management to enhance compliance and efficiency. "This can effectively plug the holes through which collectively, care providers lose trillions of dollars in low productivity," Chen stresses, and thereby reverse a patient's deteriorating health.
DIH REHAB: The Total Business Solution Provider Empowered by Robotics, AI, VR, and Clinical Workflow
A look into the current global scenario in the context of chronic diseases and its care management profoundly highlights the necessity of the global change that the founders of DIH had envisioned. With approximately 87 percent of the US elderly population and about 200 million people in China (the count is expected to inflate to 400 million over the next two decades) being diagnosed with some type of chronic disease, these numbers are but a simple reflection of the global effect of chronic diseases. In addition, there are "bottlenecks in the chronic therapy continuum" in every segment ranging from early rehab, inpatient and outpatient training, to home-based self-controlled training—the whole care system is inefficient, labor-intensive, and fragmented. Healthcare payers such as insurers fail to oversee a patient's therapeutic progress which results in trust deficits among all stakeholders, finally culminating in unforeseen problems. This has ultimately resulted in sub-optimal, low productivity therapeutic outcomes that have taken a toll on the global healthcare industry. The consolidated losses are estimated at a staggering $ 50 trillion, thereby effectively calling for a disruption in the field that can provide standardized therapies to patients and hence significantly reduce the enormous losses.
"DIH's novel, integrated neuro-rehab solutions aim to effectively solve the global challenges regarding chronic diseases and provide patients with the best treatments at every phase of their therapeutic journey"
Blending advanced robotic and VR technologies with smart workflows, DIH's novel, integrated rehab solutions aim to effectively solve the global challenges pertaining to chronic care and provide patients with the "best treatments at every phase of their therapeutic journey." Solutions like Lokomat, C-Mill, and Andago cover all stages of intensive gait therapy—from the robot-led neuro-rewiring to AR/VR enabled dynamic balancing and coordination to robot-assisted gait training—and allow patients to accelerate their function restoration process. Similarly, additional solutions like the upper extremity robots (ArmeoPower, ArmeoSpring, and ArmeoSenso) enable patients to get their arm function and agility back through an integrated care continuum.
We are aiming to inspire a new industry mindset and initiate a ripple of transformative innovation in global healthcare
All solutions are based on the proven principle of neural plasticity according to which healthy areas of a brain can take over the functions of the impaired ones. The solutions combine this principle with repetitive, task-oriented movements in game-like environments with real-time feedback which keep patients engaged during the therapy sessions. The motivating and challenging exercises assist in the gradual reorganization of the brain, allowing for restoration of movement and functionality to affected parts.
"Our solutions essentially re-wire the patient's neural pathway and deliver much more coordinated, personalized, and productive outcomes than before. Patients who have been neurologically disabled for years such as patients suffering from stroke now have better chances of getting back the lives that they have always wished for," mentions Chen. During the therapy, intelligent software provides accurate reporting of the patient's recovery status that can be shared to the relevant payers of the treatments such as health insurers, ensuring transparency and trust in the whole process.
To add more to the unique value that DIH offers, the solutions enable therapists to offload all the labor-intensive, repetitive tasks on the robots and act more like a "personal coach or motivator." Considering the fact that conventional gait therapy requires two therapists to address one patient, the assistive robotic solutions allow a therapist to treat two to four patients at a time! In addition, through cloud-based networks, therapists can provide patients with continuous interventions and monitor their journey of recovery across various connected devices. Through such innovative facilities, DIH's solutions not only enable more efficient, productive outcomes, they also economize the whole process significantly through the smart usage of minimal staff and resources.
DIH PAMS: Solving the Pharma Problem with a Next-gen Medication Management Platform
For chronic diseases, patients need to take medications continually. However, Chen again points to the state of affairs that affects both the pharmaceutical industry and the patients. In China alone, over 10 billion prescriptions are written every year that are manually processed and the medicines are dispensed by a fleet of over two million pharmacists and nurses. Such manual and labor-intensive practices substantially complicate the pharmaceutical management process and make it error-prone, leading to considerable losses in time and costs that accrete to over tens of billions of dollars every year. To make matters worse, patients failing to take the right dose at the right time are highly likely to experience treatment gaps and medication safety issues which can lead to disease exacerbation or prolongation. Thus, in coherence with DIH's vision, a significant change is necessary to streamline pharmaceutical operations and medication therapies to reduce the escalating year-on-year losses, and to enable an enhanced chronic care.
This is where DIH's groundbreaking pharmacy automation solution, DIH PAMS, comes into the picture. Through a unique cloud-based platform, the solution coordinates medication therapy through an integrated network that cuts across hospitals, long-term care facilities, and retail drug stores.
With patients under the supervision of doctors, pharmacists, and nurses, the platform automates routine and mundane dispensing and transportation, leading to a lean supply chain. This personalized and safe practice enhances compliance, trust, and cooperation among all players. "Over time, most of the mundane tasks in the pharmacies that consume the most time and costs will be automated through solutions like ours. Our end-to-end medication management platform digitizes the entire workflow seamlessly and takes care of all compliance and medicine safety-related issues, resulting in much improved, time and cost-effective drug therapy outcomes," explains Chen.

Generating success stories all over the world

Today, thousands of health institutes have adopted DIH's solutions, including hundreds of industry leaders like US-based Shirley Ryan AbilityLab, Moss Rehab Hospital, Craig Hospital, Spaulding Rehabilitation Hospital, and MIT Lincoln Lab. In China, thought leaders like Sinopharm, China Resources, China-Japan Hospital, General Army's Hospital, and the large Zhengzhou University Hospital use DIH solutions and share its vision. For instance, adopting the company's robotic solutions, an American parent was not only able to provide intensive therapy to his traumatically brain injured son but could convert the treatment robots he bought for his son into a leading neurological recovery center (NRC). What started as a personal endeavor for his family became a successful outpatient center that treated over 100 stroke, SCI, and TBI patients within the first business year. Chen adds that over the years, these types of pathologies have become more common, in the US and across the globe.

In another case, an innovative investor equipped more than 380 nursing homes in the USA (AlixaRx) with DIH's auto-dispensing and cabinet systems. All the systems or terminals were seamlessly interconnected on the internet, providing real-time telemedication services to almost a million elderly patients all over the country. Moreover, nursing homes could thus refrain from hiring extra pharmacists, technicians, and on-site operational or warehouse staff, which allowed them to save massive amounts of resources while making the entire process much more efficient.

The Road to 'Unified Innovative Transformation'

Its breakthrough innovations set DIH apart. Additionally, the company brings value to the industry as a whole: With its beliefs and its mission to transform healthcare standards by uniting the best technologies, innovators, and resources. The company fosters partnerships with renowned market leaders and clinical experts from all over the world and has built a strong presence all over North America, Asia, and Europe. The firm recently merged with Hocoma (CH), the global leader in robotic and sensor-based rehabilitation devices, and Motek (NL), the global leader in VR-based rehabilitation research. These mergers allowed DIH to extend its portfolio by leveraging the most innovative technologies to accelerate the innovation power between the partners, connect with more healthcare experts, and strengthen its global footprint—a vital step towards its mission. Chen mentions that in the near future, DIH's competency combined with such important collaborations would enable the firm's intelligent and integrated robotic systems to be at the heart of clinics, hospitals, and at-home care around the globe. "DIH resolves to do much more than just being a product brand. We would ultimately inspire a new industry mindset and initiate a ripple of transformative innovation in healthcare delivery for chronic patients on a global scale, fundamentally changing both rehabilitation and medication management and ultimately revolutionizing the industry's very economical backbone," concludes Chen.