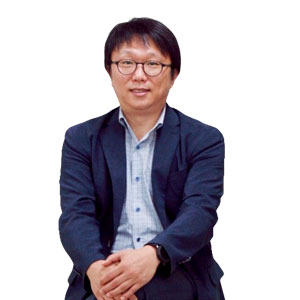 Andy Nam, Founder
While 'autonomous driving' has been quoted by many industry personnel as the next landmark in the Industry 4.0 revolution— for Andy Nam, the founder of PoteNit—it is a thing of past. "His team had participated in the projects to develop the self-propelled electric car and autonomous navigation system during his stint as a lecturer in the Korea Institution of Science and Technology (KIST) in 2008," says Paul Kim, the US President of PoteNit.
While Nam polished his autonomous technology acumen at the university, he came across a burgeoning problem. Back then, Korea was struggling with the rapidly decreasing agricultural population, which was subjected to rise shortly. With an aim to assist the Korean nation in its agricultural prowess, Nam leveraged the autonomous technology to built agricultural robots— marking the beginning of PoteNit's illustrious journey. The following years witnessed Namcreating different parts for the machines to increase his company's engineering resource and financial capability. Today, PoteNit brings innovation to the whole manufacturing industry by developing products with specialised technology and analogue sensitivity.
The firm offers various kinds of Autonomous Mobile Robots (AMR) for logistics and warehouse service companies, smart factory, and mobile solution in semiconductor manufacturing. "We are focusing on Industrial robots to solve the real-world difficulties," mentions Kim. PoteNit's AMRs can pick up products from the different storage racks and move them to the required locations.
Potenit created a robot that is equipped with the autonomous navigation system, inspection,and rehabilitation
Additionally, the AMRs also have conveyor functions which ensure a seamless and swift operation. The unique capabilities that PoteNit's solutions cater have resulted in the firm leveraging and implementing it in different situations. The company has succeeded in retrofitting forklifts that incorporate unmanned autonomous driving technology, with global construction equipment makers. Also, Potenit is participating in the development of 'unmanned excavator', which will be useful for the large construction sector and mining industries, which are struggling with labour scarcity situation. The firm's robots use SLAM (Self Localization and Mapping) technology, which enables it to travel on a self-mapped and determined route, and also re-route to avoid unexpected objects in its data. Kim mentions that there are few companies globally which can leverage autonomous navigation system, but when it comes to the Korean market, PoteNit has emerged as the leading company to use this technology and deliver autonomous robots.
The firm's autonomous navigation system was also applied to create a water supply system rehabilitation robot for the Korean sewage system. "The nation continues to use old water pipelines, and thus it was urgent for Korea to replace them," stated Kim. "Considering these problems, Potenit created a robot that is equipped with the autonomous navigation system, inspection, and rehabilitation." Further, the company is working on a visualisation sensor, which will empower it to be operational even in dark and smoky environments and will enhance object detectability.
Started as a small venture company and having struggled with the process of coexistence with big companies that emphasise production efficiency, Potenit has today become a juggernaut in the autonomous robot technology arena. The firm has created deep roots in the Korean market and eventually plans to expand its business to the US in the near future. The firm is also planning to mass-produce unmanned forklift trucks by the end of the second quarter 2018. "We will take a step toward a brighter future through in-depth research and active development of robots, which are attracting attention as core technology of the future world," concludes Kim.