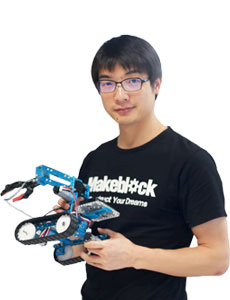 Jasen Wang, Founder & CEO
What is robotics? Well, at a general level, it is a mechanical device programmed to follow a set of instructions to make life easier and convenient. The impact of this revolution is growing at a fast pace extending its footprints across different social and enterprise spectrum. According to a report by McKinsey, 800 million jobs could be replaced by robots by 2030. Witnessing the trend, it is now becoming critical to prepare the future generation for the ultra-modern future of robots and new digital companies. One of the methods to get ready for the future is to teach STEAM (Science, Technology, Engineering, the Arts and Mathematics) in entertaining and accessible manner to school children. Set in such a backdrop is Makeblock, a Chinese robotics startup, surfing this global wave of teaching students how to build robots and how to code. Focusing on the STEM education and entertainment markets for schools, educational institutes, and families, the company offers DIY (do-it-yourself) robotics construction and programming learning platform that need to be assembled manually by users, who then write code to control their robots.
Makeblock empowers users by offering a variety of STEM kits, software and maker platform that help them in turning ideas into reality. The company's STEM kits consists a series of products that include MotionBlock–a 10- in-1 DIY robot kit; HaloCode– wireless single board computer that helps in learning to code and build hardware projects; Codey Rocky–a smart robot for beginner coding and AI learning; Makeblock Neuron– programmable electronic building block platform; Airblock– modular and programmable flying robot. It also includes mBot– entry-level educational robot kit; mBot Ranger– 3-in-1 educational robot kit; and Ultimate 2.0– 10- in-1 robot kit.
"Robotics is the best way to teach kids how to code"
Makeblock's series of programming suites includes mBlock 5, a powerful platform supporting block-based and text-based programming. The other one from the suite is mBlock Blockly, which is a game-based programmable robot app while Neuron App is a flow-based programming software with AI and IoT support, encouraging creations using Makeblock Neuron blocks. Makeblock's mBlock 3 is block-based coding software compatible with Arduino that supports different hardware and offers text-based coding learning. The software makes coding so interactive, fun and easy that to date over eight million people are using it.
Makeblock also delivers Maker platform that helps in turning creative thinking into inspiring ideas. In this series, the company offers laser box that brings a sketch to life in a safe and environment-friendly manner, three hundred plus mechanical parts, and hundred plus electronic modules.
In addition, the company also offers educational resources for Makeblock products, which include video tutorials, art assets, projects, lessons, racing/line follow maps, and technical references.
At Makeblock, we believe our future is driven not only by technology but also through creativity
They all are available in different languages, such as English, French, Japanese, Dutch, Spanish, German, and Italian. Users have the complete freedom to access resources as per their convenience and choice of language.
Moreover, Makeblock believes in multidisciplinary learning within the fields of science and technology, and that is why the company proffers MakeX, a robotics competition platform. The platform engages young people in exciting Robotics Competition, STEAM Carnival, and several other programs. The first 2018 MakeX International round was held in the convention centre of Istanbul, Turkey in March in which more than 200 middle and primary school students from seven cities took part.
During the competition, the theme for the 2019 season was also unveiled. They are MakeX Starter- City Guardian, MakeX Challenge- Courageous Traveler, and MakeX Premier-Strong Alliance, where participants will be tested on engineering, collaboration and tactics. Shedding some light on the motive behind the competition, Jasen Wang, also known as Wang Jianjun, Founder and CEO of Makeblock says, "Robotics is the best way to teach kids how to code. By competing with robots, they put their thoughts, problem-solving, communicating and creating skills on trial and get to know the digital world through what they code. We want to host the best robotics tournament and hope one day can bring MakeX to every corner of the world."
Passion Led to the Inception
Wang, a robotics enthusiast, product manager, and a hardcore maker, who has also been selected by Forbes China as one of the top 30 entrepreneurs under the age of 30, founded Makeblock in 2011. He founded the company intending to help people to achieve deep integration of technology and education.
Being from a poor village where computers and electronic toys were like a far-fetched dream, Wang had to find materials from different sources and required to learn a lot of new technology to build a very simple robot. During his university days when he developed the passion for programming and robotics, Wang brought more young students into the maker movement and founded Makeblock so that no more young talent suffers because of the lack of resources. Initially, Wang faced several challenges, including material shortage to build a basic robot; however, now with the company's products, children of age six and eight years can easily build a robot.
Wang started his venture in Shenzhen, the Silicon Valley of China because manufacturing is developed and there are lot of factories providing strong supply chains, fast product-update rates, and advantages in production. Also, the city is a place that keeps updating with time. However, within the short span of eight years, Makeblock has expanded its foot worldwide. Along with Mainland China, the company has subsidiaries in Hong Kong, the US, France, Japan, Mexico, and Croatia too. The company is also into a strategic partnership with the likes of Japan's Softbank C&S since 2017.
Currently, more than 140 countries by over 1600 channel partners are benefiting from the Makeblock products. The company's global users' number is over eight million, which is growing every day with more than 25,000 schools around the world, along with families using it for STEAM education. Moreover, in France, Makeblock products have made their space in school textbooks while more than 6,000 French primary and secondary schools are utilizing Makeblock software and hardware for STEAM education. Not only this, but the company's Neuron Explorer Kit has also been entering Apple.com and Apple Stores, and its compatibility with Swift Playgrounds software helps promote coding education broadly. Due to its innovative approach, Makeblock Neuron has already garnered a lot of praise and has been honoured with 2018 CES Design Award, German Red Dot Award, Finland Kokoa Education Standard, Japan's Good Design Award and Korea's K-Design Award, and many more.

Recognization over the Years

Due to its unmatched initiative and over-the-top offerings, Makeblock that is not even a decade old is already getting more than 70 percent of revenues coming from outside of China. Recently, the company has also won the 2019 Red Dot Design Award for STEAM Education Products among over 5500 applicants. Explaining his happiness over the honour, Wang, said: "It's a great honour to have been recognized by this prestigious Award. Product quality and design are of the utmost importance to us. From there, we have been dedicated to offering the best STEAM education solutions to schools and families in a vision to lower the threshold of creation and bring together education and technology."

In addition, over the past few years, Makeblock has received awards and been recognized many times, such as Reddot Design Award Winner 2017, International Design Excellence Awards 2017, Good Design Award 2017 and more. The company's products have also received accreditation from the Finnish education standard agency Kokoa as well as in another milestone it has collaborated with Gratnells, a classroom storage system provider, for classroom management and storage solutions.

"We are excited to be partnering with Makeblock as we continue to expand across educational environments. By packing Makeblock in a Gratnells tray, the deployment and storage of Makeblock become more efficient, allowing teachers to spend more time on what is truly important, which is teaching intending to improve learning outcomes," said Spencer Randon, Commercial Director for Gratnells expressing his happiness over the collaboration. Not only this, the company has also become the official robot education solutions supplier of RobotsMali, Mali's National Collaborative Robotics Education Center.

Aiming High with New Offerings

As one of the fastest growing companies, Makeblock always looks for an opportunity for improvement and believes in upgradation with time. With a proven track record of delivering ground-breaking products, Wang emphatically states: "Since day one Makeblock has been dedicated to helping people turn their ideas into reality and letting creation be a way of life. At Makeblock, we believe our future is driven not only by technology but also through creativity."
- Selena James
June 24, 2019