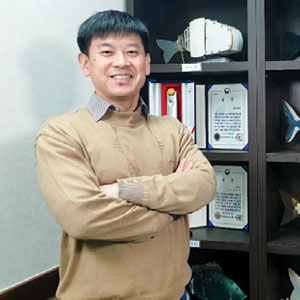 Yongjoo Oh, CEO
Who in millions of years would have thought that there would come a time when fish would be able to respond to human voice? While it might seem impossible, a Korean-based start-up, Artificial Intelligence Robot (AIRO) is spearheading the marine environment with a vision to bring this imagination into reality.
AIRO is making great strides in underwater robot technologies. The company has developed a ground-breaking Marine Intelligent Robots (MIRO) powered by artificial intelligence to explore the deep underwater places. The company, however, is currently focused on utilizing advanced technologies to gain vast knowledge from underwater to facilitate environmental projects in the future such as study of fossil to revive/propagate extinct marine species. "We strongly believe that the technological tools combined with human intelligence will instill new dreams and aspirations for the world underwater," says Yongjoo Oh, CEO of AIRO.
AIRO specializes in developing biomimetic fish robots, Marine Intelligent Robots (MIRO) that helps aquarium owners and educational firms in studying the extinct fish species. To develop real fish like movements in MIRO, AIRO's team initially studied swimming patterns and anatomies of an array of aquatic species. Some of the fish species researched were Anguiliform, resembling an Eel, Carangiform, swims with spine and caudal fin such as Mackerel, and Ostraciiform, swims only with caudal fin like a blowfish. Out of the total swimming patterns studied, 50 were utilized to develop swimming algorithms through numerical analysis. Thereafter, AIRO developed a pilot version of robotic fish through modeling and instrument design, and installed 50 swimming algorithms into it. "We compared our robotic fish design with the real life fish.
Countless trials and comparison with the actual fish eventually led to successful development of bio-mimetic fish robots," mentions Oh.

Along with developing aquatic robots, AIRO has created several underwater sports such as fishing, soccer, and ice hockey using MIRO. The fishing game is similar to real life fishing except with the robotic fishes. On the other hand, the soccer and hockey games allow participants to remotely control the fish and move the soccer ball on the screen to score goals.

However, while designing MIRO and underwater sports activities, underwater communication emerged as a huge challenge for AIRO. To solve this predicament, the firm developed a low frequency aquatic router with frequency division multiplex system to realize low capacity data communication and incorporated aquatic light beacon into the robots to further enhance underwater communications. Additionally, the company has built underwater fish robots using several fortified components to improve its mechanical stability and waterproof durability. "These different components separate each fish parts and functions. Thus, when one component is flooded or its function is lost, the flooding is prevented from propagation, thereby all the other parts remain unaffected. Then the fish can be recovered by replacing only the faulty block," explains Oh.

AIRO collaborates with a number of aquatic theme parks, aquariums, and marine educational facilities to provide them robotic fish species. Once, a Japanese client of AIRO was searching for an extinct South African aquatic species from Mesozoic Era, Coelacanth, but due to the fish being extinct the client approached AIRO for assistance. Through specialized historical research, data analysis, and verification, AIRO restored the coelacanth and supplied it to its customers that attracted numerous of customers and viewers

For the road ahead, AIRO envisions to release the school of fish with an interactive feature of responding to human voice powered by artificial intelligence (AI). Another interesting future project of AIRO is 'Fish Eye Opening Experience' enabling users to control the fish and experience the underwater world thorough the fish's eyes. Through archeological survey and data, AIRO is further planning to work on restoring the extinct fish of the geologic age.

In addition, AIRO has been developing monitoring solution of the underwater environment. Based on the monitoring technology, AIRO is preparing a service that helps submerged structures and fish farms to be managed automatically. Furthermore, AIRO is building construction of database for the submerged environment to realize a dream of operating the underwater big data service.