Nurturing future innovators means more than pumping dollars in realizing smart city dream
By Simon Yu, President, Arrow Asia Pac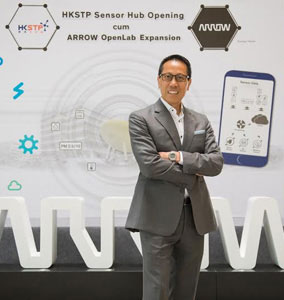 Simon Yu, President, Arrow Asia Pac
It is an undeniable truth that Internet of things (IoT) has been coming into a shape across the Asia-Pacific region. According to IDC report, the number of IoT connected devices in Asia-Pacific will reach 8.6 billion by 2020. One of every five connected devices will be found in China. IoT technology and innovation have emerged to be important components for smart cities across the world.
The Hong Kong government issued a "Smart City Blueprint" report in June and outlined the grand directions for associated organizations and technology firms to work together, building a smart city for the future. In particular, the report pointed out that IoT is one of the sources of big data, and is the building block for smart city development.
Sensor technology and wireless connectivity are some of the fundamental building blocks of IoT-driven smart city. In fact, sensors can put valuable data in the hands of various parties who then can turn data into actionable insights and information for building better and smarter communities, improving customer experience, and optimizing operations. In fact, Hong Kong has been deploying IoT in a number of areas. The report mentioned a variety of public infrastructure projects with sensor technologies such as:
Water sensors by the Water Supplies Department - to detect water pressure, enhance the Water Intelligent Network for maintenance efficiency and reduce water wastage due to water leakage.
Ultrasonic sensors by the Drainage Services Department - to detect the water level of manholes for programming maintenance Road sensors by the Transport Department - to monitor traffic conditions.
The Role of Technology Sector in Driving Smart City Innovation
The Public sector plays a critical role in supporting
smart city development
via policy making, research and development, and spear-heading city-wide initiatives. Forces from the corporate and technology sectors are also fueling IoT technology adoption and applications.
As a global technology company, Arrow embraces the potential for technology to change lives, shift perspectives and generate new opportunities.
We have been involved in projects like modifying a race car to be safely driven at speed with simply the head movements and breathe from a quadriplegic driver; transforming cargo containers into fully equipped classrooms and health clinics to be used across Africa; engineering sensors that help dairy farmers better manage livestock health and optimize milk production; and an easy-to-deploy wearable and module with sensors that prevents patient falls. The list can go on and on, with all of these IoT technologies having a far-reaching impact on our communities and lives.
Tech startups and entrepreneurs are often faced with resource constraints and tremendous pressure with timely delivery of products
Nurturing Tech Startups and Entrepreneurs
Tech startups and entrepreneurs are emerging to be the key driving force behind innovation. One of the ways we have been assisting local tech startups and entrepreneurs in Hong Kong is to provide them with free access to our first-of-its-kind technology lab facility, the Arrow OpenLab in Hong Kong Science Park. Equipped with state-of-the-art engineering equipment and testing modules and a showcase of more than 300 ready-to-deploy IoT solutions and applications, the lab serves as a center of excellence and collaboration space for entrepreneurs and startups to tap into the best-of-breed IoT solutions and a wide range of 14,000 advanced sensor products. Tech startups and entrepreneurs are often faced with resource constraints and tremendous pressure with timely delivery of products. We aim to bridge these technical shortcomings and accelerate their go-to-market journey from turning exceptional ideas into solid and reliable products that are ready for manufacturing. Nurturing startups takes more than providing them with financial support, but also equipping them with critical technology know-how and engineering support.
Putting Robust IoT Tools and Platforms in the Hands of Developers
Recently we have also participated in a city-wide initiative - Sensor Hub, led by Hong Kong Science and Technology Park (HKSTP) to promote the adoption of new sensor technologies for smart city. We provide a sensor-to-cloud-to-analytics IoT technology platform which can be deployed easily to collect real-time environmental information through a variety of sensors. As a strategic partner of this initiative, our goal is to build a robust technology framework and infrastructure that enable startups to bring IoT and sensory solutions to market quickly and cost effectively. Putting IoT platforms, tools, and modules into the hands of these local engineers, creators, and entrepreneurs is probably the best way to turn them into IoT technology-savvy talents. They will be the future IoT and technology leaders who are to continue to craft and shape the smart city dream for decades to come.
Developing a New Generation of Innovators
Innovation is a skill set that can be taught, and innovators have common traits that can be developed. Our view of corporate social responsibility goes beyond traditional corporate philanthropy and community relations. This is why we engage in programs and initiatives that reflect this commitment to develop a new generation of innovators. Last September, Arrow provided technology framework and guidance to support a group of 20 students innovators in developing Hong Kong's first concept electric vehicle (EV) through the EVTech Makerthon project organized by the HKSTP and Makerbay.
As we venture into embracing smart city and IoT business opportunities, there are probably ways by which we, as more established enterprises, can leverage our industry expertise and networks to take some of the rookies of the technology sector under our wings as they embark on a journey to be the future stars. Only if we have a thriving and growing community of tech startups and innovators, we will be able to reap the rewards of a sustainable technology sector and an increasingly digital economy.