Envisioning a Future with AI
By Damien Dujacquier, Senior Partner, Roland Berger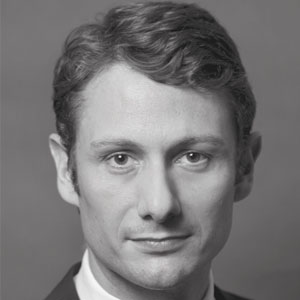 Damien Dujacquier, Senior Partner, Roland Berger
Digitization is changing the way we are doing business. In a recent study, we found out that two-thirds of executives feared their business would be disrupted by digitization. Not surprisingly, TMT executives are the most concerned, with 80 percent of them highly concerned about new entrants. The information age has indeed enabled the collection, storage, and processing of a vast amount of data. It has led to the development of several game-changing technologies among which AI is perceived as the next disruptor.
While there are many definitions for AI, I define it as the ability of supercomputers through self-learning algorithms to perform tasks commonly associated with intelligent beings— one that is capable of making decisions and potentially adapting to its environment. Artificial intelligence, however, is an old phenomenon dating back to the 1940s and which took off in the mid-50s.
So, why today? We believe we are witnessing unique conjunction of three things. First, algorithms have matured and developed. Second, we also have the computing capacity needed for real time mass processing. And third, we have data in large quantities that are ultimately the food for AI to exist.
In Roland Berger view, we are entering the era of artificial intelligence. After the PC, the internet, mobile, and smartphone revolution, we should witness a real takeoff of artificial intelligence in the next two years. In 2017 alone, 30 billion dollars were invested in AI, but to date, only 20 percent of companies have implemented AI solutions—and usually at a low scale. We are just at the beginning.
However, AI is not really a revolution in the strict sense of the term, but rather a gradual evolution of automation. Since the 1990s, business software have helped to structure data and processes. For the past three years, Robotic Process Automation (RPA) has removed systematic tasks to concentrate resources on the exceptions. It deals with simple tasks that do not require special knowledge, understanding, or perception. These are actions that can be performed by introducing very simple rules. With AI, we enter attributes of human beings that go beyond the simple ability to do tasks. AI integrates language, reasoning, and some judgment through contextualization. While technologies to date have tackled the least complex, the most repetitive, the least value-added processes in support functions or manufacturing plants, AI can handle some of the most complex decision-making processes. As such, we are convinced that artificial intelligence will affect all trades and estimate that in 10 years, the AI market will reach more than 200 billion euros.
In factories, AI will soon be a reality. Modular assembly line will allow stocks adjusted to the needs of the day, because they are connected to customer's orders while also being able to monitor the price of raw materials to buy at the best time.
While technologies to date have tackled the least complex, the most repetitive, the least value-added processes in support functions or manufacturing plants, AI can handle some of the most complex decision-making processes
Predictive maintenance, thanks to hundreds of
sensors
, will detect the state of the machines. No more unnecessary displacement in the factory with autonomous trucks being able to avoid obstacles and move the parts towards operators. Articulated arms will obey and support the movements of the hands of the workers. "Augmented operators" will be all over the factory equipped with virtual reality headsets that will display all necessary information in real time.
Beyond factories, other professions, especially services, are more affected. This is especially so, as they were not used to automation in their own sector. The broad reach of AI can creep into the jobs of service workers that might now seem AI-proof—lawyers, for instance. There are now AI-powered tools that enable decision support by ultra-fast consultation of legal texts, transcripts, judgments, and case law. It will accelerate the recommendation process and sometimes disrupt legal services with legal self-service. For instance, while a traditional divorce can take up to USD 15,000 and requires 3-6 months, AI-driven Wevorce takes one thousand dollars for its self-guided divorce and 30 days for couples to file it. This raises the question about the business model for traditional law practices? Is the hourly pricing still sustainable?
Medicine will also be impacted. For instance, researchers at UCLA have created what they call a Virtual Interventional Radiologist (VIR). The VIR is similar to a chatbot where the device communicates automatically with a patient's physicians and can quickly offer evidence-based answers to frequently asked questions. Such AI tools leverage on patient's data to provide evidence-based recommendations. However, it raises an ethical question regarding the ownership of patient data and associated data privacy.
Another example is the customer experience. Recently, Citibank launched its Citibot chatbot service in Singapore. Now customers of the bank can talk to the chatbot directly on their Facebook messenger and get instant replies to common customer queries through an AI-enabled chatbot. However, the automation of customer relations reduces interaction, and the ability to decode emotions.
Consultants like Roland Berger will not be spared either. AI tools are now automatically and efficiently performing tasks such as research and modeling, which will disrupt the traditional role of young associates and analysts. This raises the question of how to build the necessary experience to "supervise" machines.
The connected and smart future will also be at home. Curtains will diverge automatically, at the best time not to break a sleep cycle. The smart bed does a light massage to indicate that it is time to get up. The central control system of the house offers a list of tasks to perform during your absence. A connected object into the heel of your shoe gives a slight impulse, reminding you that you must not hurry up.
For infrastructure-heavy businesses like telcos, the primary goal of leveraging AI is largely for internal business transformation. There are several functions in the organization where AI can be used. It can support customer engagement through data analytics combined with AI and marketing automation. Flytxt is an example of such a company deriving massive consumer insights in real time and predicting their needs. Online is another area for the use of AI as customer data can be leveraged to customize offers and services. Some operators use the Sentient AI-powered website design tool to tailor their web pages based on consumers' behavior and, hence, increase conversion rate. AI is also used to maintain telecom infrastructure through predictive maintenance, hence, avoiding the need to send thousands of field workers for sites check-up. Business Intelligence or BI is also a key area where AI is being leveraged by telcos. AI tools such as Mondobrain are empowering operators to best understand their construct of KPI such as churn, and pinpoint the most efficient and actionable levers. Last but not least, after the wave of RPA, support functions can now further be enhanced using AI.
AI should have major impacts on the company impacting one way or another more than 50 percent of the jobs across functions—and not just the blue-collars. The impacts will be positive but will profoundly transform the labor market and society. In our view, the time has come for each business to assess both the opportunities and risks of AI and evaluate how to best learn from internal and external data through own AI-driven initiatives!