Embracing AI in Business
By Dev Mookerjee, Technology Executive, Asia Pacific, IBM Watson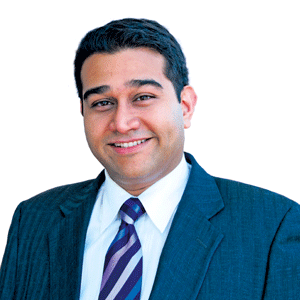 Dev Mookerjee, Technology Executive, Asia Pacific, IBM Watson
Four years ago I joined a small emerging part of IBM called the Watson Group as the first technical architect outside the US. Little did I know what a ride it would be—for me personally, for the team, and the growth of AI in the industry.
Today, the future looks vibrant both within the growth of AI technologies and its use in the industry in conjunction with other technologies. In fact, by next year we are expecting Watson to reach 1 billion people globally.
The IDC spending guide suggests that the global spending on cognitive platforms will rise to more than US Dollar 31 billion by 2019. According to the new study by the IBM Business Value in conjunction with Oxford Economics, 73 percent of the global CEOs say cognitive computing will play an important role in the future of their organizations. While 50 percent of global CEOs surveyed say that they plan to adopt cognitive computing by 2019.
Artificial Intelligence is here to stay and businesses are adopting it rapidly – and that's a good thing.
Artificial Intelligence
Presently, 520 terabytes of data is produced by New York City's surveillance cameras every day. That's one organization in one city. The volume of data and information we are producing globally has outpaced our ability to make use of it—4.4 ZB of digital data in 2013 and is projected to become 44 ZB by 2020.
Machines are good at accessing and analyzing data in rows and columns at a massive scale—like a spreadsheet— but they are not good at accessing data outside those structured databases. Humans on the other hand don't think in rows and columns. We use our cognitive frameworks to observe, interpret, evaluate, decide, and learn over time.
But it is impossible to read and understand every document, journal, report, record, and blog post, to examine every image, watch every video, hear every sound, feel the movements of every car, railroad, appliance, and ball bearing—and yet that is where the answers, cures, discoveries, and innovations lie.
This is the gap that AI is filling. AI allows machines to interact with humans in a way that was previously not possible. It allows us to focus less on the process and research, and more on the creativity and problem solving. That's why we prefer to look at "AI" as "Augmented Intelligence".
Ultimately the key role that AI plays is to bridge the gap between the way humans and machines work
Understand, Reason, Learn, and Interact (URLI)
is a simple way to remember what makes AI systems today. But how does that actually impact the jobs and businesses? Augmented intelligence:
UNDERSTANDS
the ongoing interaction in the context of its environment. Today H&R Block uses AI to help their 70,000 tax professionals make sense of 74,000 pages of tax code, thousands of yearly tax law changes, and H&R Block's 600 million data points. With AI, the tax professionals can quickly create highly personalized solutions to help individuals find every deduction, credit, and opportunity they deserve.
REASONS
by itself based on its training and suggests the most appropriate action to take based on the understanding of the interaction – for example, Woodside Energy is leveraging AI to scale the collective knowledge of an impressive bench of engineers working on huge offshore rigs. Woodside's AI instance has now ingested proprietary technical documents and engineering reports and is trained to answer difficult or perplexing questions from Woodside's energy.
LEARNS
through proven machine learning techniques. This learning is primarily through supervised learning methods, for instance, Autodesk uses deep learning techniques in the form of a virtual agent that converses with their customers to answer 40 different types of queries. They have reduced resolution times for customers from 1.5 days to 5.4 minutes and freed up the customer service team to focus more on complex enquiries.
INTERACTS
with humans and other machines through different methods. For example, Staples have designed and deployed an AI enabled "Easy Button" to allow office managers to place orders with the press of a button and a conversation.
Embracing AI in Business
Today, AI is being implemented in a wide variety of use cases in business. These use cases range from research and discovery, human interactions, recommendations, risk mitigation, and liability detection to scaling of human expertise and learning.
While there are many use cases where AI is being used today, ultimately the key role that AI plays is to bridge the gap between the way humans and machines work. At a highly simplified level most of the use cases can be categorized into two capabilities—Content Interface and Human Interface:
Content Interface
– This is when AI techniques are used to convert vast amounts of unstructured content into a form that's accessible to big data analytics systems. Common ways to use AI in this include voice of the customer analysis (by analysing contact center call recordings, client emails and more), or automated email triage or various legal document analysis use cases.
Human Interface
– This is when AI is used to allow humans to interface with machines in our terms—natural language, emails, chat, images, speech, and more. Typical use cases in this capability are chatbots and natural language search engines.
Which use case will you start with?
Start with solving a problem.
AI is no longer based on science fiction and neither is it something that's sitting in research labs. It is a mature technology being used in businesses across the world. And the content and human interface is the place you need to start. You need to ask yourself—What business problem needs to be solved? How can AI help engage customers in this new digital world? If you are not looking where AI can be applied in your business, your competitors certainly are. Good luck on your journey.